Back

Japanese whisky

Sélection

Tous les whiskies

Tous les whiskies

Sake & Co

Tous les sakés

Fruits liqueurs

Toutes les liqueurs

Spirits from Japan

Inspiration

Mixology

Article

Shinshu, the historical distillery of Mars Whisky

If we were to rely on the Mars Whisky bottlings of the last ten years, we could think that Shinshu is a young distillery...

Read more
Back

Japanese whisky

Whisky Japonais

Guide me!

Best-seller

Distilleries

Distilleries

Sake & Co

Saké type

All sakes

Best-seller

Umeshu - Liqueurs de fruits

Umeshu - Fruit liqueurs

Liqueurs de fruits

All fruit liqueurs

We like

Alcools traditionnels

Traditional alcohols

Spirits from Japan

Gin type

Best-seller

Rhum japonais

Japanese rum

Rhum

Best-seller

Vodka du japon

Japanese vodka

Vodka

Best-seller

Inspiration

Currently

Currently

/ Atelier du Saké

Atelier du Saké

Discover the exclusive corner shop of the Atelier du Saké and get access to all their great sake and Japanese alcohols.

Mixologie
Your cart
Your basket is empty at the moment
If you want to save products for later you need to login first : Sign in
Hatozaki
Japanese Whisky
With a long experience as brewers, the Yonezawa family has been distilling spirits since 1917 and it is to mark the centenary of this activity that the Kaikyō distillery was created along with Hatozaki whiskies.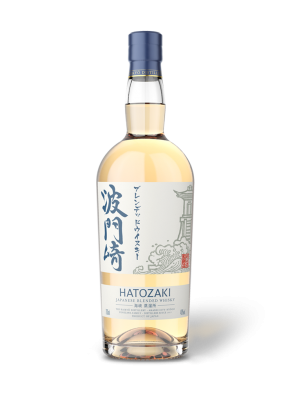 Hatozaki
With a long experience as brewers started in 1856, particularly with Akashi-Tai sakes, the Yonezawa family has been distilling spirits since 1917. 100 years later, in 2017, the production of spirits gains new momentum with the installation of Forsyths stills and the creation of the Kaikyō distillery to produce Japanese whisky and gin.
While waiting for the first single malt distilled at the Kaikyō distillery to be sufficiently mature, Kimio Yonezawa uses his skills as a master blender on Hatozaki blend whiskies. Inspired by his travels abroad and his regular exchanges with foreign master distillers and blenders, especially Scottish, Kimio Yonezawa carefully craft Hatozaki whiskies using a two-step blending process.
First, whiskies of various origins are selected to create the blend basis. Part of this base is then mixed with other whiskies stored in the Kaikyō distillery and different types of barrels are then used for aging and refining including bourbon, sherry, cherry blossom (sakura) or even Japanese oak mizunara.
As a result, to date, two whiskies: a blend therefore including malt and grain whiskies and a blended malt (or pure malt) made up of malt whiskies exclusively and produced in "small batch". These whiskies are not, for the moment, eligible for the formal designation of "Japanese whisky" being composed, probably in a significant part, of foreign whiskies imported in Japan.
See available products